Successfully energizing 110kV Thai Hung transmission line and substation project, in Thai Binh province
14/03/2023 - Người viết: AIT
At 10:15 p.m. on March 10th, 2023, Advanced Information Technologies Corporation (AIT Corp) and related units successfully energized the load of 110kV Thai Hung transmission and substation project, in Thai Binh province – which is invested by the Northern Power Corporation and assigned to the Northern Power Construction Project Management Board (BA3) to directly manage and operate the project.
As the contractor with the role of supplying, transporting and installing the primary and secondary equipment for the project, AITCorp continues to have the opportunity to accompany with BA3 and related units to make the project energize on time, with scale as belows:
110kV Substation: new construction of 110kV substation with 2 transformers, capacity 2x40MVA (1 transformer is installed this phase)

Transmission line: building a transmission line going through Thai Xuyen, Thai Hung, Hoa An, My Loc, Thai Do communes, Thai Thuy district with a length of 7,132 km, AC-400 conductor connecting Thai Thuy 220kV substation power supply for Thai Hung 110kV substation
The project has a total investment of 128 billion dong, built on agricultural land in Thai Hung commune, Thai Thuy district, Thai Binh province - is a area that is actively developing the provincial economic zone with an important economic zone - Lien Thai Ha industry, service, urban area. The energizing and putting operation of 110kV Thai Hung transmission line and substation helps to timely supply power to the industrial park; improve the reliability of the load for Thai Thuy district; supporting power supply for 110kV Thai Thuy substations and neighboring substations; at the same time, it also ensures stable power supply to serve socio-economic development of the people.
On the same day, the project was marked with a sign of youth work, responding to the Youth Month of the EVNNPC Youth and celebrating the 92nd anniversary of the establishment of the Ho Chi Minh Communist Youth Union.
Sincere thanks to Northern Power Corporation, Northern Power Construction Project Management Board and related units for coordinating and supporting AIT CORP to complete the project.
Congratulations to the staff of AIT Corp!
Image: Outdoor primary equipment
Image: Related units coordinate in the energizing process
Image: Electrical cabinets provided by AIT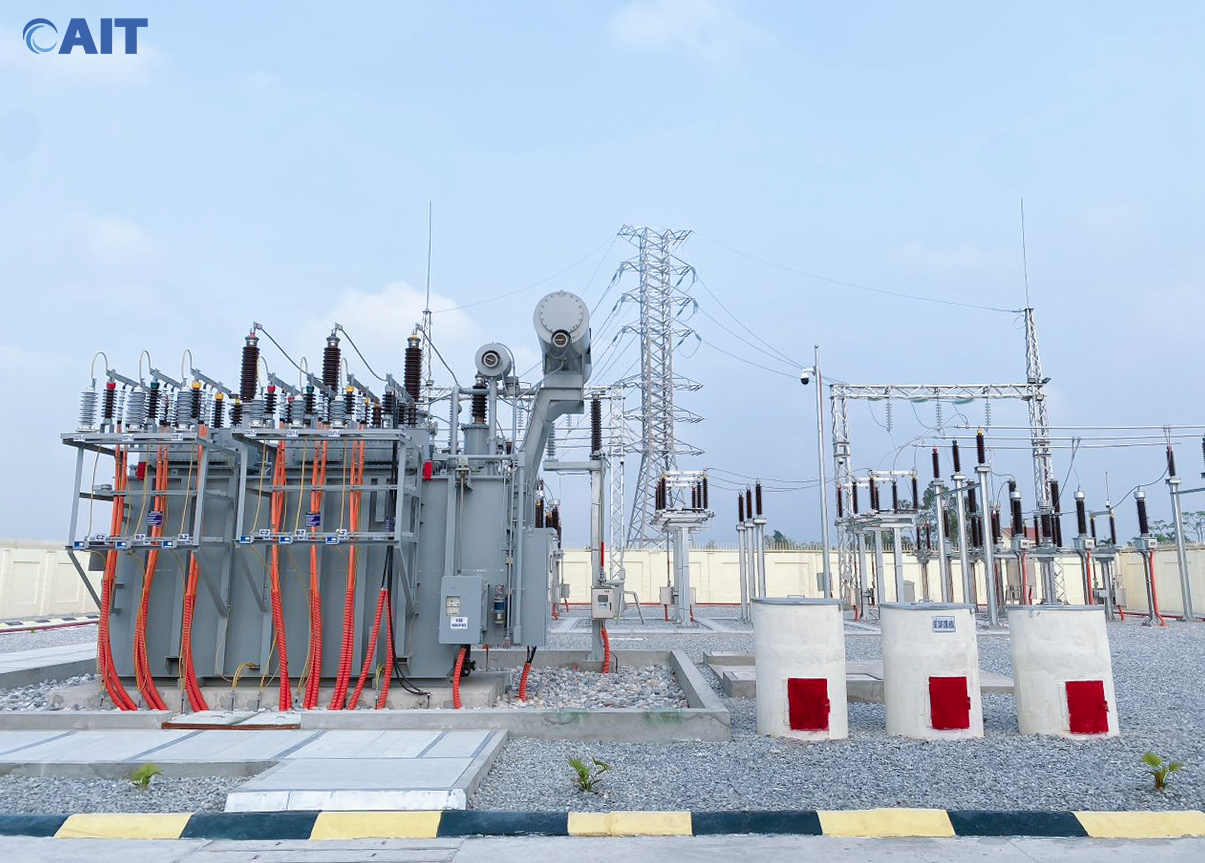 Image: T1 transformer